We're supposed to read the fine print, right? But what if we can't?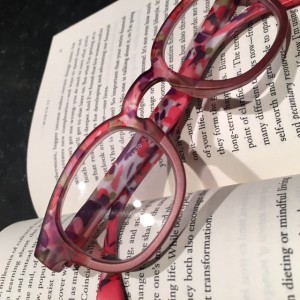 I don't know what I would do without my reading glasses, the specs that help me decipher a menu, get a grip on price tags, digest text messages and enjoy a novel.
Here's the fine print: all reading glasses are not created equal. The specs from various dollar stores are cheap, so no worries when you misplace them. But they fall apart, lack balance and often are uncomfortable. So I usually spend a little more and buy a three-pack from Costco. But they aren't as stylish as I would like.
Enter Readers.com, a seller of quality, fashionable eyewear. They are light, with spring temples that offer a good fit. And there are lots of super cute styles to choose from in both readers and sunglasses, the better for beach reading. There are 14 power options, including quite a few you won't find at the dollar store.
The folks from Readers.com sent me two pairs to try out. I am wearing a pair from the new garden collection as I write, with a muted floral design called Bouquet in a matte plastic finish. They are comfy, well-fitting and don't slide down my nose.
The MSRP is $19.95, but there are codes on the website that offer discounts starting at 15 percent off. To take 40 percent off any one item enter HAPPYWALLET40. The deal expires Aug. 31.